IIEX Europe
Join us at GreenBook's IIEX Europe conference in Amsterdam next week on June 21 and 22. Anish and Sumi will demo our quant behavioral approach for innovation testing using AR and Videometrics on stage. See you there!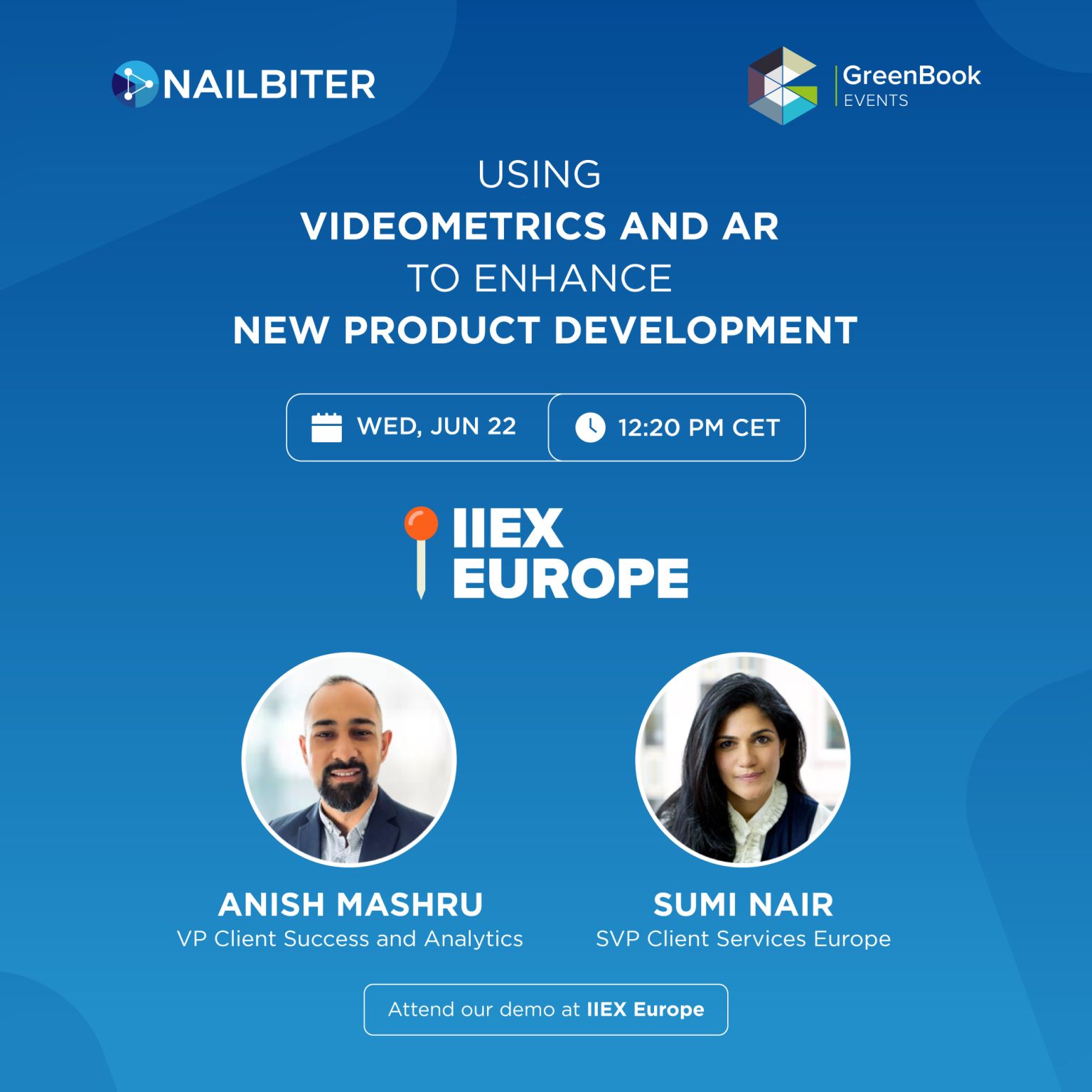 Illuminating the Shopper Journey through Videometrics
Join Robert Stevenson and Nathaniel Noertker this Wednesday, April 27th as they discuss bringing the Shopper Journey to life with Videometrics along with best practices for utilizing the insights to engage key stakeholders during a Category Management Association webinar. Additionally, the team will showcase our latest release: the US Impulse Tracker.
The NEW capability is the only video-based behavioral impulse tracker in the industry. With more than 1,000 US shopper videos per month, NAILBITER has tracked Impulse for more than a year resulting in very surprising insights.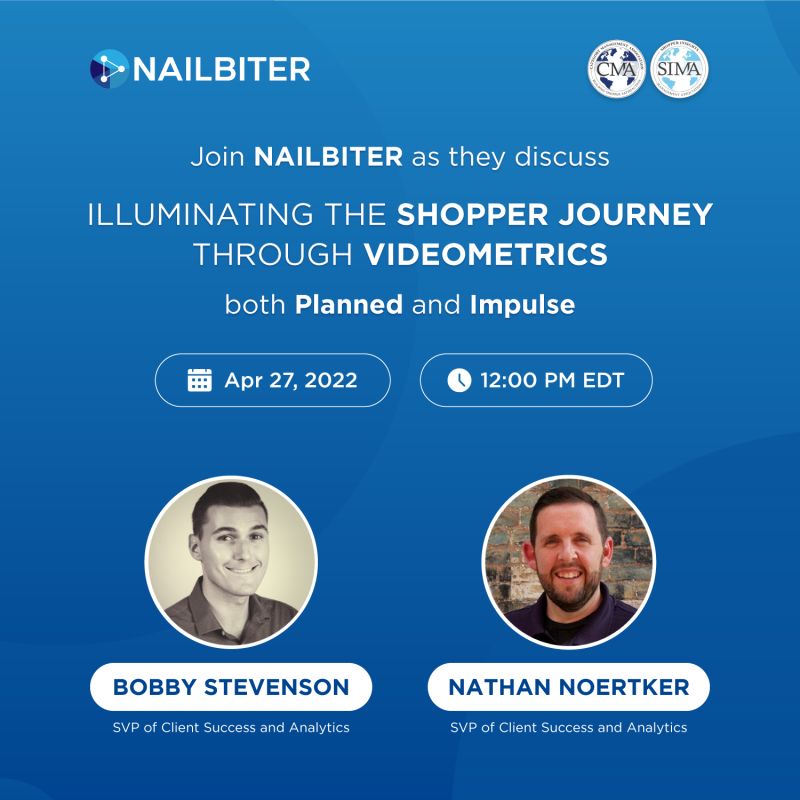 Join us on Thursday March 24th for an ESOMAR webinar
Mar 24, 2022, Amishi Takalkar, Co-Founder and CEO at NAILBITER
Join us on Thursday March 24th for an ESOMAR webinar where Mondelēz International's SnackFutures Innovation Insights lead Barbara Schandl will be talking with Amishi Takalkar about the startup mindset and model for creating and launching new brands from her office in Zurich.
She will also be sharing 2 global Mondelez case studies using NAILBITER's videometrics and augmentedreality platform.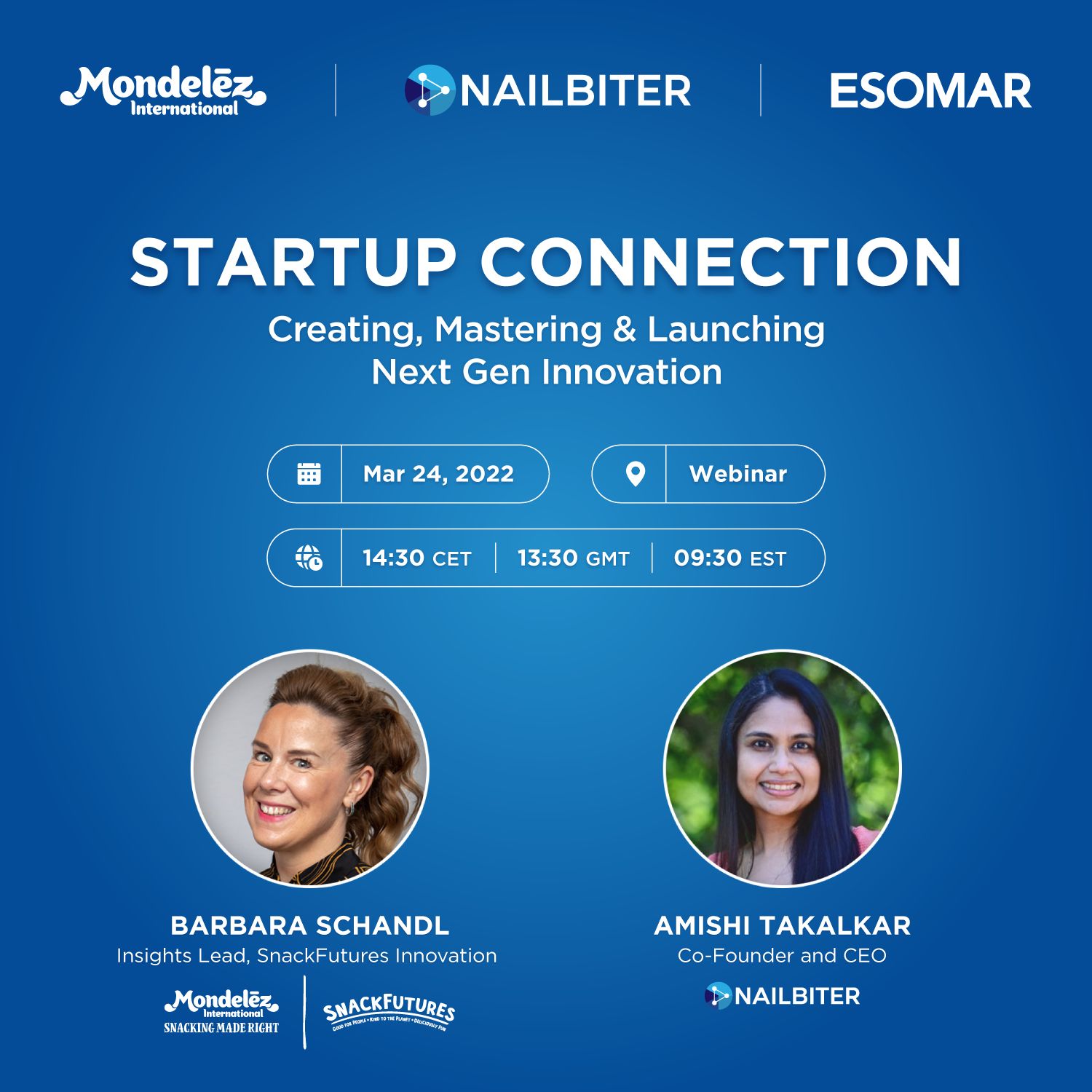 Join NAILBITER at the 2022 CMA|SIM conference in Orlando from February 28 until March 2.
Feb 25, 2022, Amishi Takalkar, Co-Founder and CEO at NAILBITER
On March 1 at 11am Nathan Noertker will discuss the intersection of Behavioral Research and technology with industry leaders Amy Joyce from Reckitt, Kasia Piekarz from Mondelez and Hunter Cook from Nestle.
Throughout the conference, please find us at the NAILBITER booth where you can interact with our team and learn about our latest shopper research products.
More information can be found here: https://www.catman.global/annual-conference-2022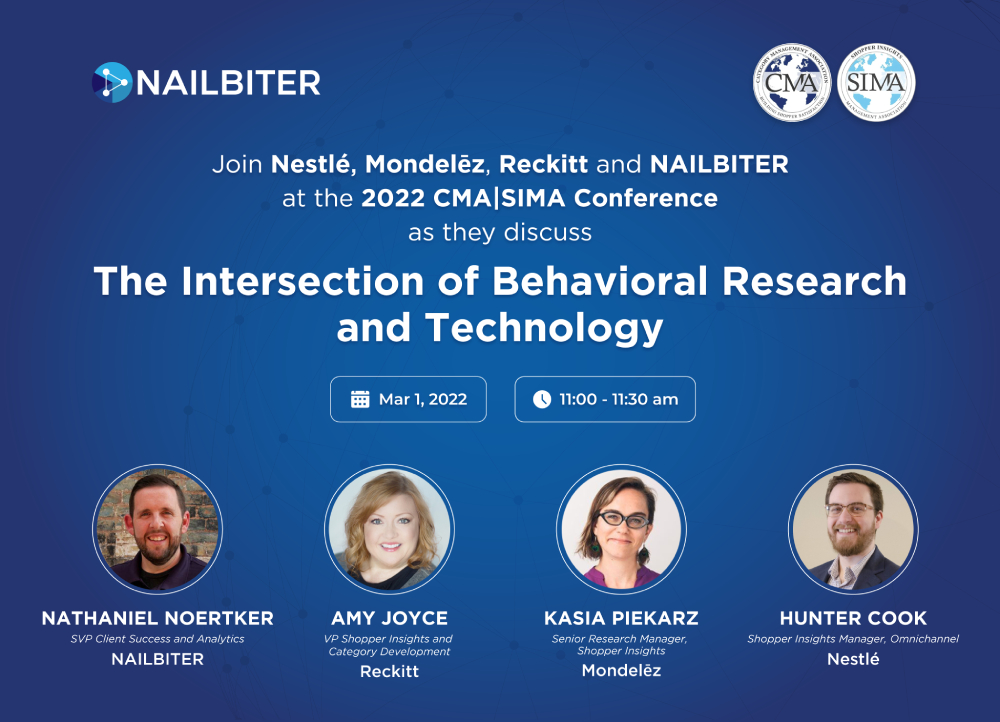 NAILBITER Secures $13.3 M Funding through U.S. Boston Capital Corporation
Dec 23, 2021
The round will be used to accelerate global expansion, strengthen Augmented Reality tech platform and create new data products
John McClellan (Principal, U.S. Boston Capital Corporation) will join Amit Dhand, Amishi Takalkar (co-founders) and Lang Leonard on NAILBITER's Board of Directors
December 23,2021, Reston: NAILBITER, the leading Behavioral Videometrics Consumer Research Platform, announced today the closing of a $13.3 M raised by U.S. Boston Capital Corporation as placement agent. The raise will be used to accelerate global expansion, strengthen the company's Augmented Reality Technology and create new eCommerce data products to replace traditional market research.
"We are truly blessed with the current NAILBITER team. The raise will allow us to add to our team by attracting the very best talent and offer industry leading employee benefits." said Amishi Takalkar, co-founder and CEO of NAILBITER. "We are an employee first company and aim to create growth opportunities for all."
"We have been driving incredible change in the $90Billion Market Research industry, all while being employee owned and funded. This raise allows us to build on that achievement and to strengthen our competitive advantage." Amit Dhand, co-founder and Chairperson of NAILBITER said.
John McClellan, commented, "We see NAILBITER as a major disruptor in the CPG data and market research industry. NAILBITER's transformative in-store and eCommerce technology & strong leadership has allowed them to attract 13 of the top 20 global CPG companies as customers. We see our investment enabling NAILBITER to reach customers in important new markets."
"I am excited to have been part of the 7-year journey to date and for the opportunity to help guide the management team along the way. I am confident that this is the right time to accelerate growth and that the additional capital will enable the company to realize its potential." Lang Leonard said.
About NAILBITER, Inc. (www.nailbiter.com)
NAILBITER is a Global Quantitative Videometrics platform for video-based market research. Using in-the-moment video and augmented reality, NAILBITER captures and converts real shopping behavior in-store and online into actionable metrics, serving global CPG companies. Headquartered in Reston VA, NAILBITER has offices in New York, Chicago, London, Amsterdam, Mumbai, Singapore and Dubai.
Special risks to investing in the technology sector include but limited to: Valuation risk, Risk of the technology obsolescence, Possible emergence of rules related to tech from regulators and governments
CONTACT IR@nailbiter.com
About US Boston Capital Corporation
U.S. Boston Capital Corporation places interests in private placements of debt and equity securities of private companies on behalf of its affiliate Registered Investment Advisor Pear Tree Partners, LP, dba U.S. Boston Growth Capital. It targets early and expansion stage companies seeking capital for launch and expansion. For more information, visit www.usboston.com. Member FINRA/SIPC
Proudly Certified as "MINORITY BUSINESS ENTERPRISE(MBE)"
Dec16, 2021, Amishi Takalkar, Co-Founder and CEO at NAILBITER
It gives me great pleasure to announce that NAILBITER has been recently certified as a Minority Business Enterprise (MBE) in the US by the National Minority Supplier Development Council (NMSDC) - the premier agency in the space.
NAILBITER has driven many firsts already and this is another one among the top tier CPG Market Research Firms.
NMSDC is one of the toughest certifications to get, so I'd like to thank our team who have worked tirelessly to get it done!
"Build their Reality" - a new CMA webinar together with Reckitt on 19.11
Nov 16, 2021
Coming up on Friday November 19 is our new webinar with the Category Management Association.
As shopper behaviors and preferences are changing more frequently than ever before, flexibility in your insights is no longer a 'nice to have' but a necessity. As a result, shopper insights teams must prepare for changes that may not even be on their radar yet and be ready to act as soon as new learnings are uncovered, both understanding the present while simultaneously preparing for the future. Please join Yelena Idelchik, Associate Director, Category & Shopper Insights at Reckitt and Gram Bowsher, Executive Vice President, NAILBITER, as they explore how Reckitt has begun to "Build their Reality" with always-on, behavioral insights uncovered through NAILBITER's Videometrics Platform.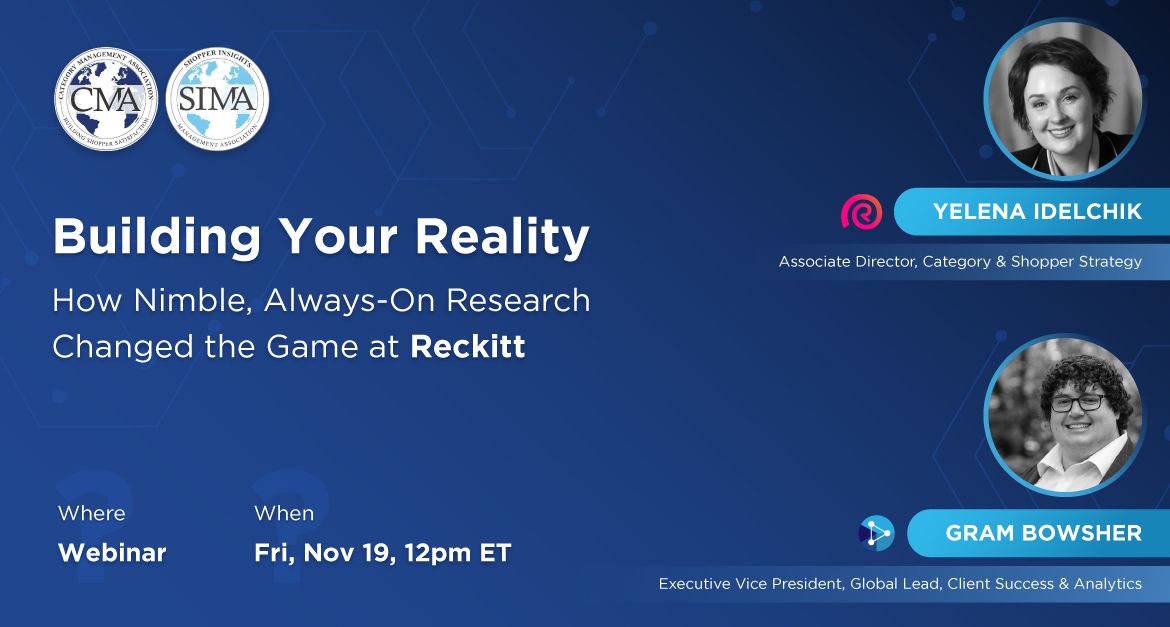 You can register for the webinar here
Find NAILBITER @ TMRE 2021
Nov 09, 2021
If you're going to Nashville for TMRE, November 15-17, 2021, we have a couple of exciting updates for you.
Together with Sobia Bashir, the Global Innovation and Design Insights Lead at Mondelez International, NAILBITER's CEO Amishi Takalkar will be presenting on stage on Monday November 15 2021 at 3.50pm.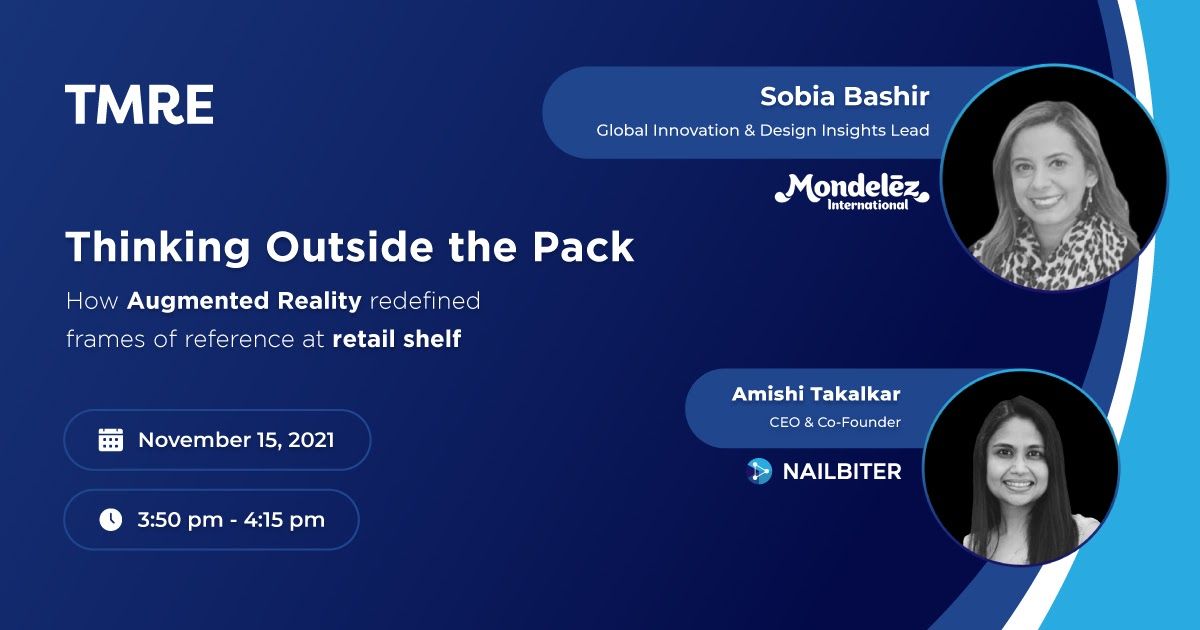 Mondelez International partnered with NAILBITER to pioneer a ground-breaking agile approach to traditional pack testing. Supporter of an agile, in-the-moment mindset, the partnership helped uncover how testing in context can help unveil new growth opportunities for brands as it did for the gum category for Mondelez Colombia.
This session will highlight why shopping behavior in a dynamic, COVID retail environment requires new research techniques beyond the traditional, and how Augmented Reality (AR) captured behavioral insights that might not have been as illuminating through traditional shelf testing or other video based approaches. AR allows consumers to place a 3D image of new products on shelf next to real category competitors for the most natural testing environment and capture of Shopper reactions.
You will walk away inspired to make a case for AR in your organization, with a clear understanding for how the Colombian team was able to quickly and easily act on results, and see & hear why AR is the future of innovation testing.
Throughout all days of TMRE, you will be able to find the NAILBITER team at booth #426 in case you're interested in our Behavioral Videometrics Platform and want to experience our Augmented Reality applications yourself.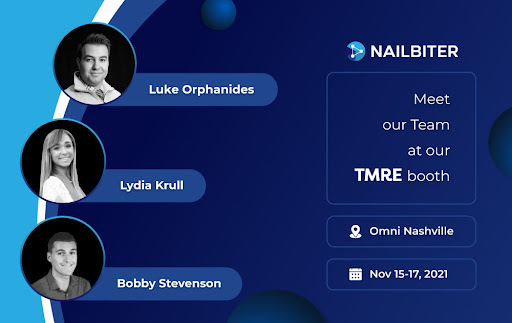 If you want to know more about TMRE 2021 or register, please visit: TMRE: The Market Research Event - the #1 event for the insights & analytics community (informaconnect.com)
Johan Vrancken will be joining us as Chief Revenue Officer
April 13, 2021
We are excited to announce Johan Vrancken will be joining NAILBITER as our new Chief Revenue Officer in May 2021.
Formerly an Executive at Nielsen, Johan worked with our Co-Founders Amishi Takalkar and Amit Dhand at Affinova where he was a transformational leader and superb client partner.
Johan will be based in Amsterdam and will take charge of our Client Services globally with a specific focus on opening new offices across Europe, Asia, and LATAM. While we've operated globally since 2015, Johan's addition will put Client Services feet on the ground in most major markets.
NAILBITER has expanded to Europe
April 5, 2021
I am pleased to announce the latest development at NAILBITER! As of early 2021, NAILBITER has expanded to Europe starting with the UK in a series of Global Expansion slated for 2021 / 22. While we have been executing work globally since 2015 leveraging our US and India teams, this expansion indicates our continued commitment to growing the adoption of Videometrics by our clients globally and bringing quantitative, observational data and metrics to the insights community everywhere.
Leading our efforts is Sumi Nair joining us as SVP of Client Service, Europe. Sumi is a proven leader and has a strong track record of driving client adoption of new technologies by leveraging her strong relationships across Europe, which I have seen firsthand at Affinnova. She is based in London and will be building a team across the continent. Reach out if you or someone you know is interested – we are hiring across all teams!
Also, stay tuned for more BIG news coming in the next two weeks…exciting times here at NAILBITER!
Virtual Reality Vs Augmented Reality / RBDR
March 9, 2021
NailBiter Vice President Katie Egge details for the benefit of researchers the differences between widely familiar Virtual Reality and less familiar Augmented Reality.
Happy International Women's day
March 8, 2021
This International Women's Day, we celebrate the women who make our industry great. Both here at NAILBITER and within our clients' organizations, smart, hardworking, and powerful women make the insights industry better everyday!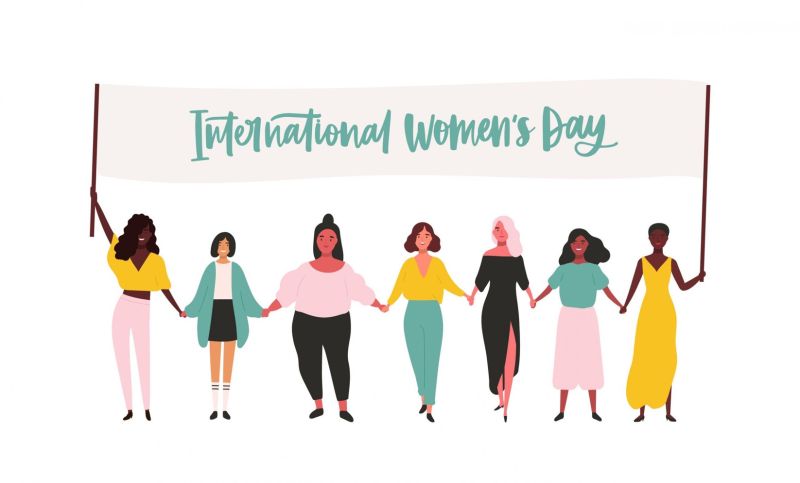 NAILBITER :Unlocking the power of consumer & shopper behaviour in CPG
Sept 15, 2020
Proud to share that CIOReview has recognized NAILBITER as one of the Top 10 Most Promising CPG Solution Providers in 2020. "In the last 20 years, CPG research seems to have fallen behind in leveraging the data revolution. It wasn't because there wasn't enough data, but rather too much data with very little insight. That's where I believe [NAILBITER] is making a change, using behavioral data to give CPG manufacturers better insights into their product and branding." Be sure to check out the August issue, featuring a cover story with NAILBITER's Co-Founder and CEO Amishi Takalkar.
GreenBook GRIT 'Top 50 Most Innovative Suppliers'
July 15, 2020
It's our inaugural year on the GreenBook GRIT 'Top 50 Most Innovative Suppliers' list, so we decided to ask a few of our client partners what makes us innovative...here's what they shared
"Ponderings from the Perch"- Priscilla of Little Bird Marketing and Jocelyn Simon share a moment of Truth-"
May 29, 2020
Check out NAILBITER's SVP of Client Services, Jocelyn Simon, on "Ponderings from the Perch", the podcast from Priscilla McKinney and Little Bird Marketing. In this engaging conversation, you'll hear topics covered such as why Videometrics are critical for the evolving CPG and Retail landscape, why new product launches need more than just sales data to determine success, and Jocelyn's pet peeve around the word "actionability".
Can CPG go D2C?
May 16, 2020
Is D2C the next shift in the disrupted CPG retail landscape.If you're a big, medium or small-sized CPG manufacturer who's exploring a D2C launch, NAILBITER can help you with behavioral data to understand what shoppers are seeking from the online grocery experience.
Get a grip CPG!
March 11, 2020
NAILBITER's co-founder, Amit, weighs in on how the Coronavirus will impact CPG. Spoiler alert...it won't. Read on to know why CPG is always strong to bounce back in the face of crisis.
WHAT HAPPENS IN STORE AFTER THE BIG GAME?
Feb 20, 2020
As the Super Bowl advertising fades, the big brands and new products that grabbed attention using that ad platform are left to fight it out in a crowded CPG marketplace. They may have spent up to a reported $5.6 million for a :30s Super Bowl ad spot, but now they need to be Noticed in-store and deliver an at-shelf message that gets them into shoppers' carts.
The third season of The Masked Singer wasn't the only video footage to follow the Superbowl. We used NAILBITER's videometric platform to capture our own big reveal... when shoppers headed to the store after the big game.
Some shoppers made clear connections from the Super Bowl ads to the products they found in-store. Others went looking, but had trouble finding advertised products. Watch these NAILBITER videos for a taste of how it all happens in-store.
Wondering what's happening in the aisle in your categories? Follow us on LinkedIn and let us help you uncover real shopper behavior with NAILBITER videometrics.
Behavioral science - great hope or all hype?
December 15, 2019
Ditching claimed metrics and observing real behavior could revolutionize shopper insight, so why do only 1/3 of firms do it? We look at the barriers which have stopped behavioral research from scaling, and the new tools which might break through and let it fulfill its huge potential.
Join NAILBITER at the Final Events of 2019!
October 17, 2019
As the calendar year begins to wrap up, the final conferences and events for the year are right around the corner. The NAILBITER Team is excited to be attending and speaking at several conferences to round out the year. Below is a calendar of events where the NAILBITER Team will be in attendance as well as any presentations we will be giving.
In-Store Video Tells the Full Story of Super Bowl Shopping
February 4, 2019
With the Super Bowl over, the conversation now switches to the commercials. But, what if I told you that by focusing on just the commercials, you're missing a big piece of the Super Bowl marketing blitz?
October update from CEO Amishi Takalkar
October 15, 2018
I am pleased to announce several exciting developments: – Tracy Needham, industry veteran in Tech, has joined NAILBITER as VP of Research – Rolled out a major upgrade to our Marketing Effectiveness product and very excited for the tremendous client response, especially on Advertising and Display Videometrics – Successful integration of Voice to the NAILBITER Omnichannel...
I am pleased to announce several exciting developments:
– Tracy Needham, industry veteran in Tech, has joined NAILBITER as VP of Research
– Rolled out a major upgrade to our Marketing Effectiveness product and very excited for the tremendous client response, especially on Advertising and Display Videometrics
– Successful integration of Voice to the NAILBITER Omnichannel Shopper Journey Videometrics Platform
New Video Metric Norms for Packaging
October 5, 2018
Thrilled to report that we just completed an update to the NAILBITER norms database! This is our repository of (in-store) video based shopper metrics across 800+ CPG brands 4 teasers related to packaging: 1 in 4 shoppers across all (CPG) brands are influenced by packaging in their purchase decision, on a typical shopping trip Less...
October 5, 2018 - Posted by: Amit Dhand - In category: Blog, News - No responses
Thrilled to report that we just completed an update to the NAILBITER norms database! This is our repository of (in-store) video based shopper metrics across 800+ CPG brands